Join us for a (slightly unconventional) SAYG meeting on Sunday 25 September as we hit the streets as part of our project tackling hostile architecture!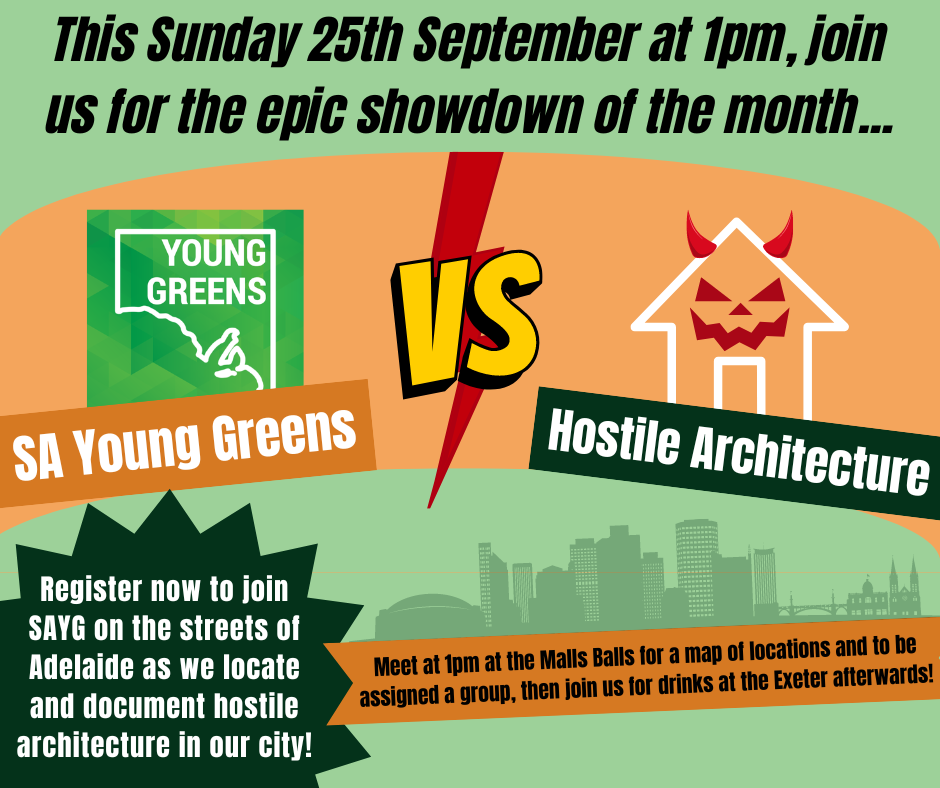 SA Young Greens believe public spaces should be readily accessible and usable to the public. Hostile and ghost architecture is when public spaces are designed to discourage their usage of them, whether by making them difficult to use, uncomfortable to spend too much time in, or lacking basic facilities. This disproportionately impacts disabled people, homeless people, youth, and the elderly.

So what can we do about it? We're currently developing an interactive map of the city which will document and categorise instances of this issue across Adelaide. This map will be both a resource for people navigating the city who need to know what spaces are and aren't available to them and a resource for young activists in pushing our city in a better direction!

This meeting, we'll be starting up at 1 pm at the Rundle Mall Balls where we'll split people into small groups and assign an area of the central city for you to help map out (using a handy checklist we'll provide!). Afterwards, we'll debrief and run through our meeting's business at the Exeter (246 Rundle St, Adelaide) over a drink. We can't wait to see you all there as we fight to make Adelaide a city that includes everyone!
September 25th, 2022 1:00 PM through 4:00 PM
100 Rundle Mall
Rundle Mall's Balls
ADELAIDE
SA
5000
Download iCalendar entry for this event.
iCalendar feed for this event.