Call-out to all Young Greens: join us at Botanic Park, Adelaide opposite the northern entrance of the Botanic Gardens for a summer party full of minigames, a potluck for food (bring along a plate to share!), and speeches about all things YG!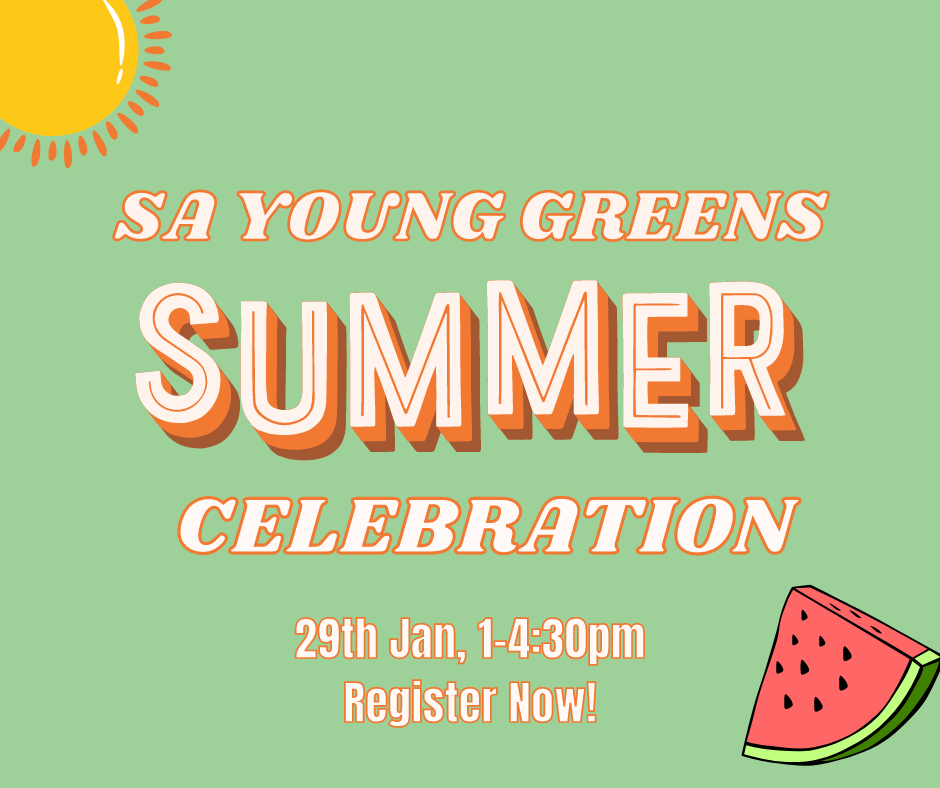 We're hosting a Summer Party free to all Young Greens members and supporters to celebrate our growth as a movement and as a Members Action Group (MAG) over the past few years since the SA Young Greens MAG was re-established.
This will also be a great opportunity to meet your branch and SA Greens Office Bearers who we are inviting along as well, and also hear from your new 2023 and previous 2022 Co-Convenors who will give a summary of the year that was and the year that will be!
Minigames and activities include face painting, Big Jenga and other board games, badge making, and throwing water balloons at the Co-Cos (for a fee, of course)! 
Please also make sure to bring along food to share that doesn't need to be kept cool during the event or pay $5 extra for access to the potluck so we can buy more food if needed on the day. You may also wish to bring along a picnic blanket.
This event is open to all Greens members and supporters aged 14-30 as well as all SA Greens, Branch, and MAG Office Bearers.
ATTENTION YOUNG GREENS: If you do not know your branch (federal electorate) while trying to register, just let us know your suburb and we can work out the electorate for you. Thanks!
Event Details
Date & Time
Jan 29th, 2023 01:00 PM through to
Jan 29th, 2023 04:30 PM
Location
Botanic Park, opposite the Friends' Gate
Plane Tree Drive
ADELAIDE SA 5000
Contact